Iking & Partner Translators are happy to support the work of international non-profit organisations dedicated to informing and educating people across language borders by providing pro-bono work.
Translators without Borders
We support the work of Translators without Borders. Translators without Borders provide other non-profit organisations with free translation services in order to support their work.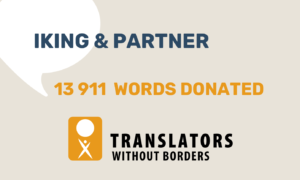 TED
Furthermore, we support the organisation TED by creating and translating subtitles for videos with educational content.
Here are some of the videos subtitled by us:
Find out about our services.